HEALY WATCH - MOTION FOR LIFE
The

Healy Watch

is much more than just an ordinary fitness tracker or a smart watch. It is an integral part of the Healy World family and a valuable addition to Healy. It is an important building block in a new and revolutionary wellness and balance system!

The Healy Watch

measures and evaluates various vital parameters as well as your body-mind-balance.

The Bioenergetic Rhythm Analysis (BRA) data is transferred to the HealAdvisor Cloud. The HealAdvisor app then creates an application plan in accordance with the expert database. This data allows Healy to find the right individualised frequencies protocol programs to harmonise your Bioenergetic Field.
Healy Watch Connector App
The Healy Watch can be used alone or
connected to a Healy through the Healy Watch Connector App.
The Healy Watch Connector App is a monthly subscription which will auto-renew monthly.
You can cancel your subscription prior to the renewal date.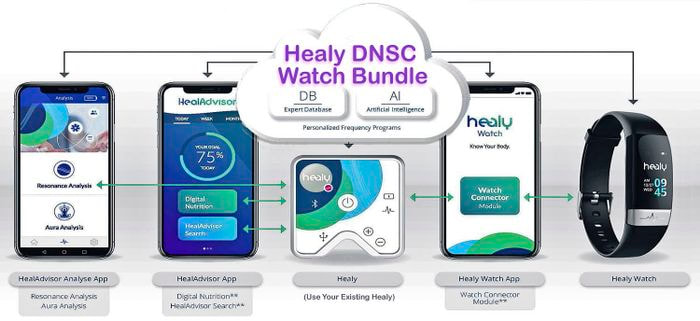 All Healy devices come with 14-day full money back guarantee and 2 years warranty.
Notice: Healy is designed to harmonize your Bioenergetic Field and enhance recovery, vitality and wellbeing, not to cure, treat, mitigate, diagnose or prevent disease.

The information on these pages is for reference and educational purposes only. It should not be treated as a substitute for professional medical advice, diagnosis or treatment. You should always seek such advice from a qualified medical professional.