PLUS, THERE IS A DOUBLE FAST START CASH BONUS PROMOTION
TO SPRING BOARD YOU - EXTENDED TO 6 JULY!
​
THis is in addition to your usual commission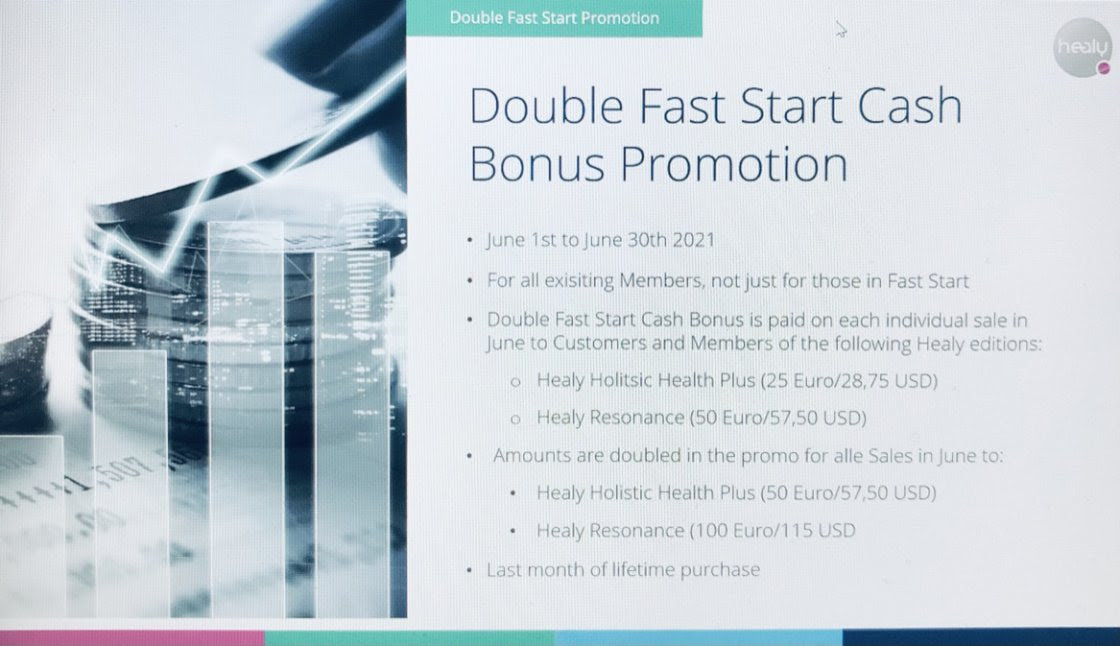 For more details, please contact me to arrange a Zoom chat.
​This Double Fast Start Promotion is for Healy World Members ONLY.
So first thing first, join Healy World and become a Member.
YOU HAVE THE WORLD WIDE UPGRADE PROMOTION Until 6 July 2021
To help you launch your business! ​
This is the LAST CHANCE for LIFE TIME purchase or upgrade!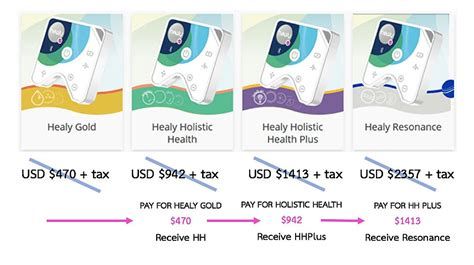 All Healy Editions come with a full 14-day money back guarantee and 2 years warranty.
To give you an overview of what Healy can do for you and to make sure that you get what you really need, Healy World have put together a collection of frequencies in pages and modules in the form of 4 different editions.
​Click on the images to unlock further details.
​
Healy Gold

Healy Gold comes with Healy hardware, the Nuno Nina Gold Cycle and a program page of your choice.

The programs of the Nuno Nina Gold Cycle can be used in many ways:

✓ Bioenergetic support

✓

Recovery from negative experiences

✓ Optimal energy balance

✓ Emotional balance

✓ Well-being

✓ Relaxation

Healy Holistic Health

Healy Holistic Health consists of a Healy, the Nuno Nina Gold Cycle plus 8 other program pages that can help guide you to better health:

✓

Local Stimulation : Pain / Psyche

✓

Bioenergetic Balance 1

✓

Bioenergetic Balance 2

✓

Mental Balance

✓

Meridians 1

✓

Meridians 2

✓

Sleep

✓

Skin

Healy Holistic Health Plus

Everything's in here: you get Healy Holistic Health plus 6 other program pages, more than 133 Healy programs to choose from:

✓

Learning

✓

Fitness

✓

Job

✓

Beauty

✓

Chakras

✓

Protection Programs

Healy Resonance

The Healy Resonance edition uses Scalar waves and has all 133 Healy programs. In addition, Healy Resonance includes the HealAdvisor Analyse App and the Aura scanning modules with unique integrative and homeopathic programs like:
✓Bach Flower Remedies,
✓ Materia Medica,
✓ Schuesller Cell Salts,
✓Alaskan Gem Elixirs,
✓Australian Bush Flowers, ✓Amino Acids, I-Ching.

Healy Resonance enables you to scan your frequencies against all available Healy programs to determine which programs are best for you. It takes the guess work out of your wellness approach.

All Healy devices come with a 14-day full money back guarantee and 2 years warranty.
2 STEPS TO BECOME A HEALYWORLD PARTNER
​

Step #1 REGISTER TO AS A HEALY WORLD PARTNER

Make sure you have checked that Healy can be distributed to your country and then follow the steps below to become a member today.
Click on the 'Become a Partner' link below to take you to Healy World partner page
Complete all the details – you can skip past VAT, ID documents, Whatspp and bank account details at this stage
Please select the option 'small business entrepreneur' on the business option page
Enter in your Username of choice and Password. Please note: No space or character for Username
Then you are registered as a HEALY world partner
Remember to keep a record of your User Name, Email address and Password

Thank you!

​

​Step #2 PURCHASE YOUR HEALY PRODUCT AS A MEMBER

Recommended to use a desktop instead of phone
Google search Healy login for your country.
Enter in your username and password
Click on Shop at the top of the screen
Choose your Healy model and package and add to the cart
Head to Checkout
Check the 'Ship to' details. Ensure everything is entered correctly, and there is a valid phone number
Ensure you enter in any coupon codes for any current promo deals for your country if applicable
Best way to order and easiest is with a credit card.
Process payment with a credit card
You should receive emails relating to confirmation of purchase, order information and delivery information.

Thank you!
Thriving Life Biz Support
Thriving Life will provide all the support you need to build a thriving wellness business with Healy. As a Healy World partner, you can access:
​
Time-proven landing pages for customer acquisition and referral
International landing pages to attract a large number of Healy World members
Social Media Templates for Integration into your social media channels
Self-explanatory videos and presentations for easy customer recruiting
Attractive customer referral programs
An innovative multi-level compensation model offering attractive income at all levels
A supportive business community
We are creating a community to support one another in creating health, wealth and wellness! Together we are raising the frequencies of our planet, one person at a time!
Healy Coherence
Coherence is alignment, stability and flexibility.

3 areas of coherence: Heart, Intention and Emotions.




Healy Coil - Coming in June!
​

Healy---a coil which allows a purer frequency delivery untainted by wire transmissions.

This new system allows constant Healy frequency access without the need of your cell phone.
Ready to
ROCK ​Your Business?

Join the Upstart Community & connect with other savvy entrepreneurs
---
Ready to
ROCK ​Your Business?

Join the Upstart Community & connect with other savvy entrepreneurs
---